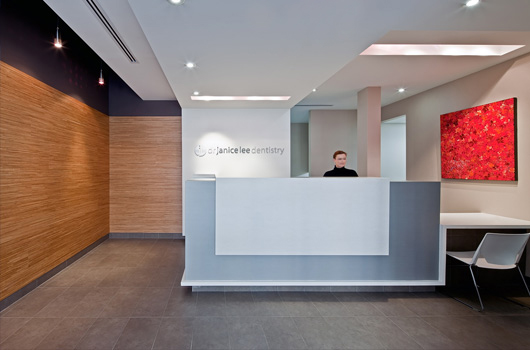 Project:
Location:
Area:
Completion:
Dr. Janice Lee Dentistry
Mississauga, Ontario
2,700 sf
2009


Dispensing with conventional clinical approaches to dental office design, the new interior presents patients with a refined, inviting environment. A fluid transition of spaces is reinforced by the use of uniform flooring throughout and wood accent walls which work in concert with a continuous planar element that visually traces a path for the patient from the vestibule to the operatory chair. The conscious alignment of circulation and waiting areas with exterior views combined with semi-open operatory rooms admits abundant daylighting, providing a consistent quality of natural light throughout the interior. The deliberate blurring of boundaries alleviates the anxiety of the patient in their procession from the relaxed waiting area to the operatory rooms. Detailed manipulation of ceiling planes, heights, form and material provides subtle, yet clear thresholds between public areas and private operatory rooms without interrupting the spatial continuity.