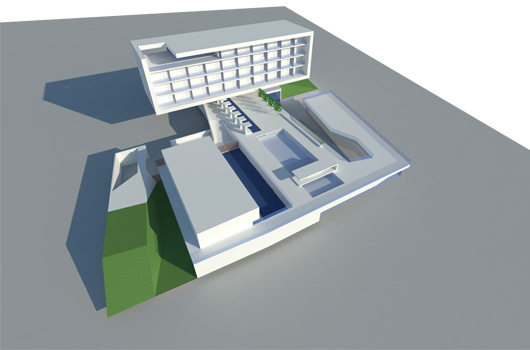 Project:
Location:
Area:
Completion:
Turks and Caicos Resort
Providenciales, Turks and Caicos
63,000 sf
Pending


Situated alongside a public thoroughfare which connects to a public beach and park, the resort is challenged by its separation from the ocean front as well as issues of privacy from its street exposure. The project proposes a new elevated ground plane with common lap pools, spas, lounge decks, cabanas and soft landscaping, raising the outdoor amenities above the low-lying structures and landscape of the public beach and park thereby providing un-obstructed ocean views and privacy from the street activity below. This new ground plane further separates public and private functions where the resort entry, conference hall, night club and retail spaces are tucked below at street level while the private suites float above within simple rectilinear volumes.